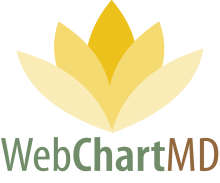 JOHNSON CITY, TN – WebChartMD, a leading maker of transcription software, today announced it has surpassed 40 million minutes of audio dictations processed using its transcription workflow platform.
"This milestone wouldn't be possible without the thousands of transcription professionals and hundreds of transcription organizations who put their trust in us," said Mark Christensen, CEO of WebChartMD. "From those 40 million minutes of dictation, our users have created more than 15 million documents for over 40,000 clients using WebChartMD."
WebChartMD is web-based transcription software used by transcription companies, hospitals, surgery centers and physician practices to create and manage clinical documentation. Commercially launched in 2007, WebChartMD is one of the most widelyused and best-known transcription platforms in healthcare.
Today's announcement comes a week after the company announced the upcoming release of its new mobile app for dictation and workflow management. The mobile app is the most recent example of the company's specialized expertise at creating software that is functionally robust while extremely easy to use.
"It's part of our corporate DNA to focus on usability as much as functionality," said Andrew Carpenter, WebChartMD's Chief Software Architect. "We strive to create the best visual and functional user experience possible."
That attention to the user experience isn't missed on WebChartMD's clients – especially when it comes to making a mobile app capable of managing the complexities of the transcription workflow. Kris Girardi, owner of 360 Transcription, said, "WebChartMD is already an indispensable part of how we run our transcription business. But having the ability to manage our workflow from a mobile app means that we're able to keep our business going while away from our desks. And that goes for my doctors as well, who can do everything on their mobile device that they used to have to be in the office to do. This changes the way we do business."
WebChartMD's mobile app is the latest in over 200 new features the company has released to its dictation and document management platform in the last 24 months. Other recent releases have included a front-end speech recognition integration, business intelligence analytics, large-scale workflow automation features, a drag-and-drop report builder, and highly refined process control capabilities. Learn more about WebChartMD at www.webchartmd.com or by calling 877-386-6677 option 1.
Video Link : https://youtu.be/8frK25pI14k
Contact Detail:
Company Name: WebChartMD
Contact Person: Mark Christensen
Email: mark@webchartmd.com
Phone No: 423-943-3465
Country: United States
Website Url: http://www.webchartmd.com


Source: www.PRExhibition.com