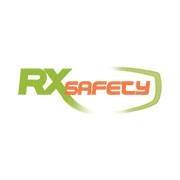 10/09/2021 – Middlesex, NJ: RX Safety is the leading online store of prescription safety glasses. Dedicated to providing high-quality prescription safety glasses at affordable prices, we are also committed to our customer shop experience. In 2021, we are proud to say that we have taken yet another step towards complete convenience for our customers. We are proud to announce our first Mobile app called RX Safety. Our seasoned customer care team has developed an app to make the order of prescription glasses process easier than it has ever been before. This RX Safety app is available for both IOS and Android.
The RX Safety app was carefully developed by our team of experts. They know exactly what our customers are looking for in their experience. Through years of catering to customers in specific segments, RX-Safety knows how to streamline the process for ordering prescription safety. The app is extremely sleek in function, innovative, and easy to use for customers of all ages and backgrounds. Thankfully, it is extremely helpful and useful for those that work in segments that are busy and don't have time to go to optical safety stores in person.
Many customers that require prescription safety eyewear are extremely busy people that are always on the move for work or sports. These men and women who especially value their free time don't want to spend it at the optical store. The RX Safety App also allows customers to spend more time actually selecting and customizing their glasses. They can browse through the different lens coatings and frame features at their leisure. In fact, there is more of a selection on the app than a brick-and-mortar store could ever offer, simply due to space constraints.
With the RX Safety app, customers will have the convenience of being able to browse through reviews, images and videos of specific products. Customers will also have the ability to browse normally through the RX-Safety selection, and shop for prescription safety gear the same way they can on the website. If you are a registered shopper on RX-Safety's website, and have your own RX-Safety customer account, you're in luck! You can login to your account on the app, and all of your information will all be there saved and ready to go.
The RX Safety App will certainly make things easier for customers that already love doing their shopping at RX-Safety. It will also be a great simplified way for new customers to learn to shop for prescription safety glasses with ease. RX Safety will host special promotions that are exclusive to customers that have the new app. Additionally, there will also be features specifically for app users. If customers choose to enable push notifications, they will be the first to learn about new promotions, new arrivals, and even when the time has come to purchase a new pair of glasses!
As professionals in the optical safety segment, we know how important it is to keep up with modern shopping habits. That being said, it is impossible to ignore the growing demand for easy online ordering methods. With modern times, come modern ways of shopping and purchasing goods online for consumers. Now more than ever, there is a rise in the amount of customers choosing to free up their spare time. They do this by shopping at online retailers such as Amazon. Many people feel you can't put a price tag on the ease of your purchases arriving straight to your door.
This same shift toward convenience and online retailers has especially touched the online optical safety segment. In fact, more and more people are purchasing their customized glasses and filling out their prescriptions online. At RX-Safety, we are happy to be able to offer our customers the convenience of a flawless online ordering process. For years, we have prided ourselves on our high-quality prescription safety glasses, prescription sunglasses, prescription tactical glasses, shooting glasses, and performance eyewear.
Therefore, we highly recommend RX-Safety existing customers and new customers alike download the free RX Safety app on their iPhone or Android smartphone! Simply search "RX Safety" in the app store today and download!
About Us:
Rx Safety is an American manufacturer of affordable prescription safety glasses and performance eyewear. A family-owned and operated business, with a state-of-the-art digital ophthalmic lab and the online store providing affordable, top-of-the-line prescription safety glasses, sunglasses and performance eyewear on the market. All the safety glasses always meet or exceed the ANSI Z87+ standards for high impact, to be safe and secure while working in any kind of hazardous environment. Besides standard safety glasses, we offer a broad selection of prescription shooting and tactical glasses, prescription youth sports glasses, fishing and motorcycle glasses designed and tested to meet our high standards. As an authorized distributor of Wiley X, Bobster, ESS, and BodySpecs, Rx-Safety.com offers a full line of prescription safety glasses straight from the manufacturer at wholesale prices. Feel free to call at 732-356-1493 or email at service@rx-safety.com.
Like us: https://www.facebook.com/RxSafety/
Follow us: https://www.instagram.com/rx_safety/
Subscribe us: https://www.youtube.com/user/RXSafetyVideos/
Retweet us: https://twitter.com/RXSafetyEyewear/
Contact Detail:
Company Name: RX Safety Glasses
Contact Person: Ryan Phillips
Email: Send Email
Address: 123 Lincoln Blvd, Middlesex
State: NJ 08846
Country: United States
Website Url: https://rx-safety.com/


Source: www.PRExhibition.com