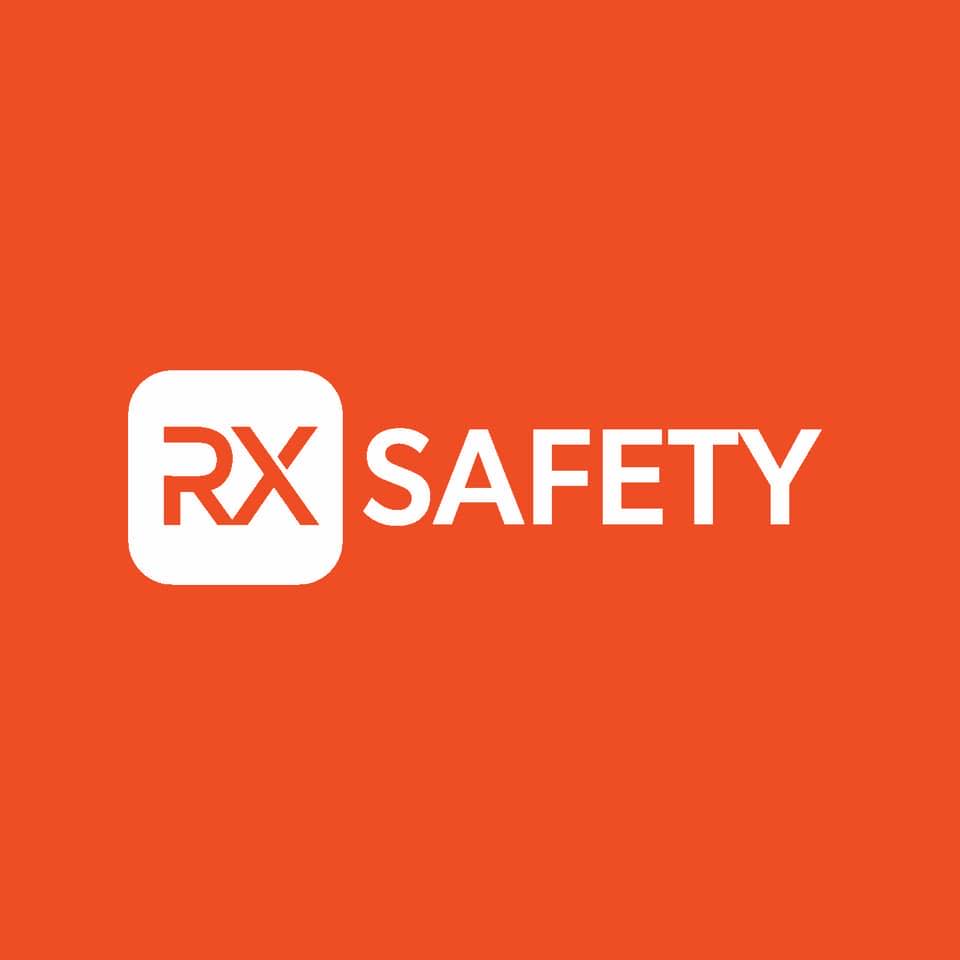 09/13/2022 – Middlesex, NJ: We are pleased to share one of our best-selling options for prescription safety glasses with you. The Geardo safety glasses kit should be a staple set of safety glasses for any work environment, avid shooter, on the range, or via hunting. They are specifically designed to enhance the shooting environment as well as provide maximum adaptability and flexibility.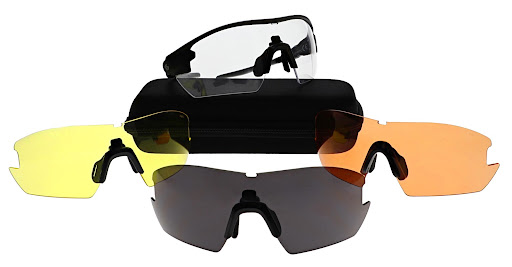 Ultimate Flexibility
The Geardo can shift as the environment shifts. At RX Safety, we provide four different detachable and interchangeable lens colors. These colors are; Clear, Dark Grey, Orange, and Yellow. They can easily be swapped out with the frames to provide the most user-friendly setup.
Comfort and safety realized
The safety glasses Geardo comes with ANSI Z87+ safety glasses ratings, as standard with all of our safety glasses. This means that it has passed the requirements of providing protection against high-impact velocity debris. This helps to keep your eye on the target without the worry that you may need to subconsciously close your eyes with each shot due to impact or debris.
With this safety, these prescription safety glasses with interchangeable lenses also come with extensive levels of comfort, with rubberized temples and nose guards for all-day comfortable wear, without pinching your face.
The rubber also helps to keep the ANSI safety glasses in one place while you do your shooting for any time period. All of this comes with form-fitting and lightweight frames that make you almost forget at times you have these prescription safety glasses on in the first place.
Prescription friendly
How could we keep our name RX Safety without providing safety glasses with a prescription option? The true utility of these Geardo safety glasses is that their flexibility allows for detachable safety glasses with a prescription insert that fits easily inside the overall safety glasses.
This makes the Geardo prescription safety glasses when needed and still has the oversized protective ANSI Z87+ safety glasses frame protecting the eyes.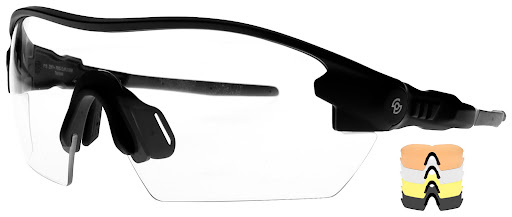 Portability and cost-effective
As if the flexibility and the color options weren't enough to buy these, the style of the Geardo is exactly what someone is looking for when they want to spend a day at the gun range. They'll match any outfit and are entirely travel-ready.
Additionally, with Geardo prescription safety glasses, you're buying a kit that comes with a travel case to be able to protect your prescription safety glasses during transport. This means that when you need to use them, these safety glasses will be working with optimal efficiencies.
Grab yourself a pair of these today. As we always try at RX Safety, we try to make these as affordable as possible, allowing you to indulge in getting multiple lens colors without having to hurt the bank account too much.
In addition, since they're interchangeable, and the lenses not in use can easily fit into the travel kit, this is a collection worth building up to complete for the avid shooter looking for a fantastic pair of shooting safety glasses.
Feel free to reach out to our expert staff with any questions about these or any other types of safety glasses we offer. We highly recommend the Geardo safety glasses, as they are the best of many worlds, and many of our specialists can call themselves proud owners of this product.
We know every single spec about these and any of the safety glasses we carry. We also want to make sure to help those that are looking for safety glasses with prescription, hence why we took the Geardo safety glasses in the first place.
Let us be your one-stop-shop for all types of safety glasses, whether for work, the military, or leisure.
About Us:
Rx Safety is an American manufacturer of affordable prescription safety glasses and performance eyewear. A family-owned and operated business, with a state-of-the-art digital ophthalmic lab and the online store providing affordable, top-of-the-line prescription safety glasses, sunglasses, and performance eyewear on the market. All the safety glasses always meet or exceed the ANSI Z87+ standards for high impact, to be safe and secure while working in any kind of hazardous environment. Besides standard safety glasses, we offer a broad selection of prescription shooting and tactical glasses, prescription youth sports glasses, fishing, and motorcycle glasses designed and tested to meet our high standards. As an authorized distributor of Wiley X, Bobster, ESS, and BodySpecs, Rx-Safety.com offers a full line of prescription safety glasses straight from the manufacturer at wholesale prices. Feel free to call at 732-356-1493 or email at service@rx-safety.com.
Like us: https://www.facebook.com/RxSafety/
Follow us: https://www.instagram.com/rx_safety/
Subscribe us: https://www.youtube.com/user/RXSafetyVideos/
Retweet us: https://twitter.com/RXSafetyEyewear/
Contact Detail:
Company Name: RX Safety Glasses
Contact Person: Ryan Phillips
Email: Send Email
Address: 123 Lincoln Blvd, Middlesex
State: NJ 08846
Country: United States
Website Url: https://rx-safety.com/


Source: www.PRExhibition.com