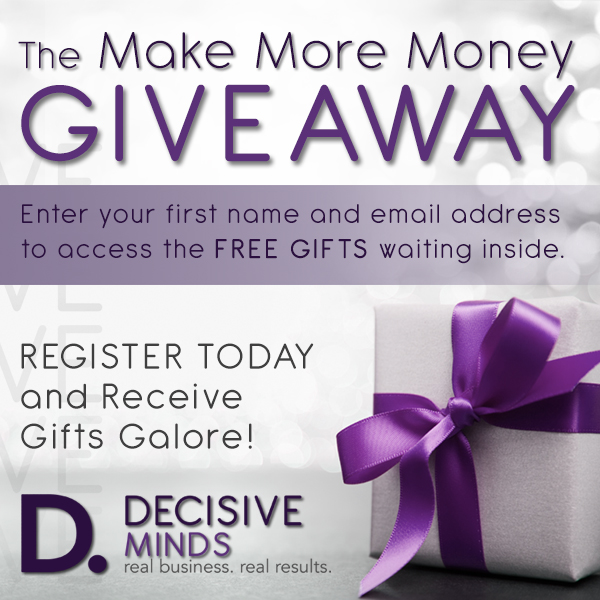 "We all want to share with everyone our best ways to take decisive action, get results, and make more money," says Michele Scism. "And the best part is: it's absolutely free!"
Summary:Michele Scism, Decisive Minds LLC, is a multi-six figure, successful business coach who offers guidance to coaches and entrepreneurs on business building techniques
Michele Scism, Decisive Minds LLC, is a multi-six figure, successful business coach who offers guidance to coaches and entrepreneurs on business building techniques
Lake Charles, LA: Michele Scism is sponsoring the first annual Make More Money Giveaway event which will run from August 8 through August 26, 2016. Michele joins forces with more than 45 other business industry leaders to bring business owners and entrepreneurs the money making tools, strategies, checklist, and ideas to bring new clients, help them design a message that works, and build their REAL business. "It's an impressive group, and we all want to share with everyone our best ways to take decisive action, get results, and make more money," says Scism. "And the best part is: it's absolutely free!"
The products available in this free offer include but are not limited to: product launch sequence information, templates to help entrepreneurs market their business in less than 30 minutes a day, copywriting templates, speaker sheet templates, social media cheat sheets, marketing blueprints, branding checklists, Facebook profit strategies, and many more. In addition, the business owners and entrepreneurs who participate will have access to Michele's 5-hour video recordings of the Product Success Secrets program.
"There is something here for everyone… whether you are just getting started or ready to make a huge leap in your business," Michele says.
To access the free gifts, business owners and entrepreneurs are invited to visit: http://www.makemoremoneygiveaway.com
This event is part of a series of special activities leading to Michele's conference "Decide. Act. Profit" to be held in Houston on September 29, 30 and October 1. To know more about "Decide. Act. Profit", visit Michele's website at www.DecideActProfit.com
About Michele Scism
Michele Scism is a decisive, driven and committed entrepreneur who loves helping business owners build thriving, leveraged businesses. She believes that business failure could be eradicated if business owners would make a few simple changes to the way they do business.
Michele is also the Founder of DecisiveMinds.com. She is a serial entrepreneur who knows how it feels to fail miserably at business. At one time the bank actually called demanding their $1.5 million back. She also knows how it feels to sign the contract to sell your company for $9 million dollars. For business building tips visit www.DecisiveMinds.com
Michele is an award-winning author of multiple books, including her latest "Take the Risks or Get a Job: How to Make the Choices That Will Make You Money." She is an International Speaker, Business Strategist and Coach, and winner of the prestigious Stevie Award in 2014. As Michele takes her place in the Entrepreneur world she says, "I feel blessed to live a life of decisive positive influence!"
To reach Michele Scism or to schedule an interview:
Contact publicist Sandy Lawrence
281.989.8892
sandy@perceptivepublicrelations.com
Follow Scism on Facebook at www.facebook.com/DecisiveMinds.
Contact Detail:
Company Name: Perceptive Public Relations
Contact Person: Sandy Lawrence
Address: 13202 Dogwood Blossom Trail
City: Houston
State: Texas
Phone No: 2819898892
Email: sandylawrence@perceptivemarketing.com
Website Url: www.perceptivepublicrelations.com


Source: www.PRExhibition.com