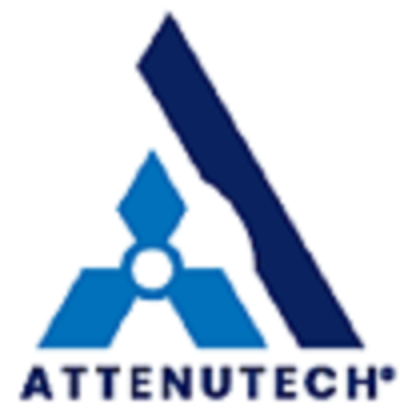 03/14/2023 – Lutz, Florida: When AttenuTech® was conceived, it came with the mission to provide the best protective equipment out there for those who should be able to focus on their expertise in the medical and sciences field and not be concerned if their equipment is protecting them against dangerous radiation. As a result, we have a dedicated full line of radiation protection as well as numerous other types of safety medical equipment.
This way, when you check out our site to purchase any items, you, the customer, are at the forefront of convenience. Whether you buy various radiation protection equipment from us, especially our lead aprons that are partially customizable, or any of our ancillary equipment, it's all about easy accessibility to your equipment.
We work towards manufacturing excellence to ensure the products you purchase from us will not fail you when you need them the most, and we make sure we get whatever certifications are necessary to prove that point. One of the products we're most proud to offer is our selection of Mobile lead apron rack options.
Instead of going for a fixed Wall mounted lead apron rack, you can add a layer of flexibility and mobility to bring the equipment where it's needed, especially with radiation protection aprons that can tend to be quite heavy in some cases.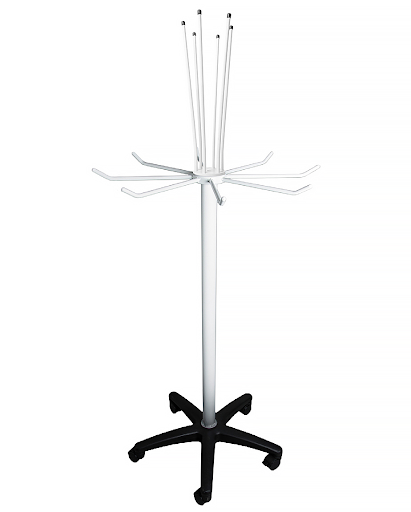 8-peg Spyder Apron Rack with Glove Holder
The first option on our list is our most mobile option, the 8-peg Spyder Apron Rack. This was built to be a compact option that's great to bring to the necessary rooms with the equipment and built with the mindset to easily be stored when necessary. The solid steel construction helps to store and move up to 8 lead aprons and three pairs of lead gloves.
The hooks to hold them come at an angle to keep the aprons held more securely. Assembling is extremely easy with this option, as all you need to do is secure one screw on the top with an Allen wrench and a bolt at the base on the bottom, and it's ready to go.
Mobile Radiation Apron Valet Rack, 48in Wide
The Mobile Radiation Apron Valet Rack has a 300-pound weight limit and diverse ways of storing your aprons and other radiation protection equipment, so you can mix and match what you need to move around up to that weight limit.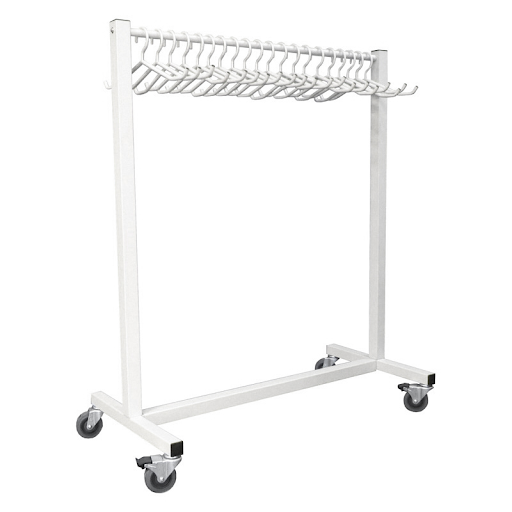 To help with transportation, it also comes with closed hangers that are end flared, which come with every unit to help start your organization's mission. The steel construction on this also comes with a white powder coating to help it be a calming and aesthetically pleasing option that fits with any medical office or center.
Garment Style Mobile 10 Arm Apron Rack
Another option when you're looking for an X-ray lead apron rack on a wheel system is this 10-arm Apron Rack mobile. This lead apron rack can hold up to 10 aprons, and the arms that hold them can easily be rotated out to 180 degrees, so you don't have to pull and tug off the apron from the rack. With this many arms, it has a capacity of up to 600 pounds easily, yet still easy to push and transport around as a mobile lead apron rack.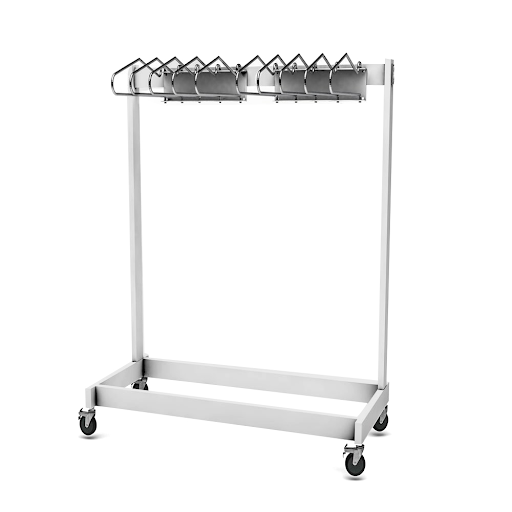 This type of lead apron rack comes in a white and chromium finish giving it that extra touch to your location while still being able to store your aprons as needed. Get in touch at +1 813-909-8330 or email at service@attenutech.com for further queries.
About Us: AttenuTech® provides radiation protection products for physicians, techs, nurses, and staff who utilize Fluoroscopy for imaging procedures. At AttenuTech®, we are dedicated to implementing the best radiation protection in high-risk surgical environments. With a manufacturing presence in the United States and Europe, we guarantee the highest quality of products and services in the radiation protection industry. We provide affordable and applicable solutions through state-of-the-art technologies and modern equipment. All AttenuTech® products are CE Certified, and manufactured with strict adherence to applicable laws, standards, and regulations, assuring the highest levels of protection, confidence, and quality.Contact Information:
Like us: https://www.facebook.com/attenutech/
Follow us: https://www.instagram.com/attenutech_radiationprotection
Retweet us: https://twitter.com/attenutech
Contact Detail:
Company Name: AttenuTech®
Contact Person: Ryan Phillips
Email: Send Email
Phone No: +1 813-909-8330, 1-800-757-2703
Address: 24008 State Road 54 Lutz
State: FL 33559
Country: United States
Website Url: https://www.attenutech.com/

Source: www.PRExhibition.com