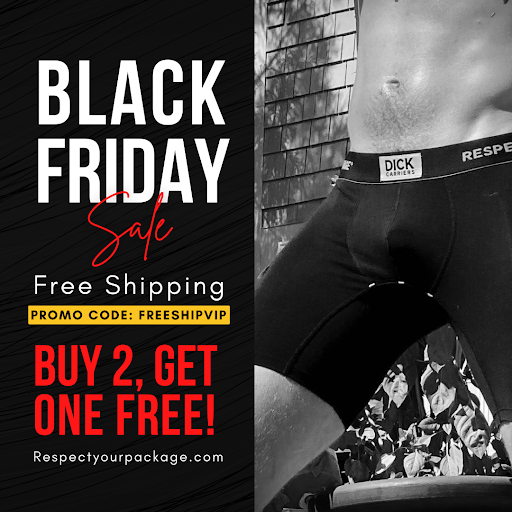 11/19/2023, Show Low, AZ: DICK CARRIERS®, the vanguard of luxury performance men's underwear, has announced an exclusive limited-time offer that will leave customers delighted and comfortable in style. With the commitment to delivering the best in men's underwear, Respect Your Package by DICK CARRIERS® proudly introduces the promotion Buy 2, Get One Free! And free shipping using Promo Code "FREESHIPVIP".
This limited-time offer is a testament to Respect Your Package's dedication to providing ultimate comfort and quality for every man. When co-founders Richard and Dick Carrier set out to create the best damn underwear on the planet, they sourced the best materials and obsessively attended to every detail. The result is a line of meticulously crafted underwear that exceeds expectations.
DICK CARRIERS® understands that men deserve more than just ordinary underwear. They deserve an experience of comfort and style. From the specially-designed BALLbustier® (the Push Up Bra for men) to the no-roll DICK CARRIERS® branded waistband these are not just underwear; but a masterpiece of craftsmanship.
The Buy 2, Get One Free offer allows customers to elevate their underwear game to new heights. It's an opportunity to experience unparalleled comfort and style without compromise. But the generosity doesn't stop there. With Promo Code FREESHIPVIP, customers can also enjoy the added bonus of free shipping, ensuring that these top-quality undergarments are delivered right to their doorstep without any extra cost.
This limited-time offer is a fantastic chance for men to upgrade their daily essentials and experience the difference that meticulously crafted, premium underwear can make. Don't miss the opportunity to enjoy the luxury performance, support, breathability, and comfort that DICK CARRIERS | Respect Your Package® provides.
To take advantage of this exclusive offer and elevate your underwear collection, visit their official website at www.RespectYourPackage.com. Discover the perfect blend of comfort and style and make the most of the Buy 2, Get One Free promotion with free shipping by using Promo Code FREESHIPVIP. Feel free to contact our customer service representative by phone at +1 (312) 702-1488 or by email at sales@respectyourpackage.com for further information.
About DICK CARRIERS®:
Respect Your Package by DICK CARRIERS® is an underwear apparel lifestyle brand for men that emphasizes adventure, street culture, and bold experiences. Two generations of Richard Carrier bring you the right way to carry what matters most – premium men's underwear featuring the BALLbustier® Technology, the Push Up Bra for men. Through their brand, they're building a movement around the idea of respect by delivering Men's Luxury Performance – Underwear and benefitting society by empowering men to look and feel their best! Our SATISFACTION GUARANTEE ensures that you love our product or your money back.
Like Us: https://www.facebook.com/dickcarriers
Follow Us: https://www.instagram.com/dickcarriers/
Contact Detail:
Company Name: DICK CARRIERS®
Contact Person: Richard and Dick Carrier
Email: Send Email
Phone No: +1 (312) 702-1488
Address: 710 S Spirea Ln, Show Low
State: AZ 85901
Country: United States
Website Url: https://respectyourpackage.com


Source: www.PRExhibition.com