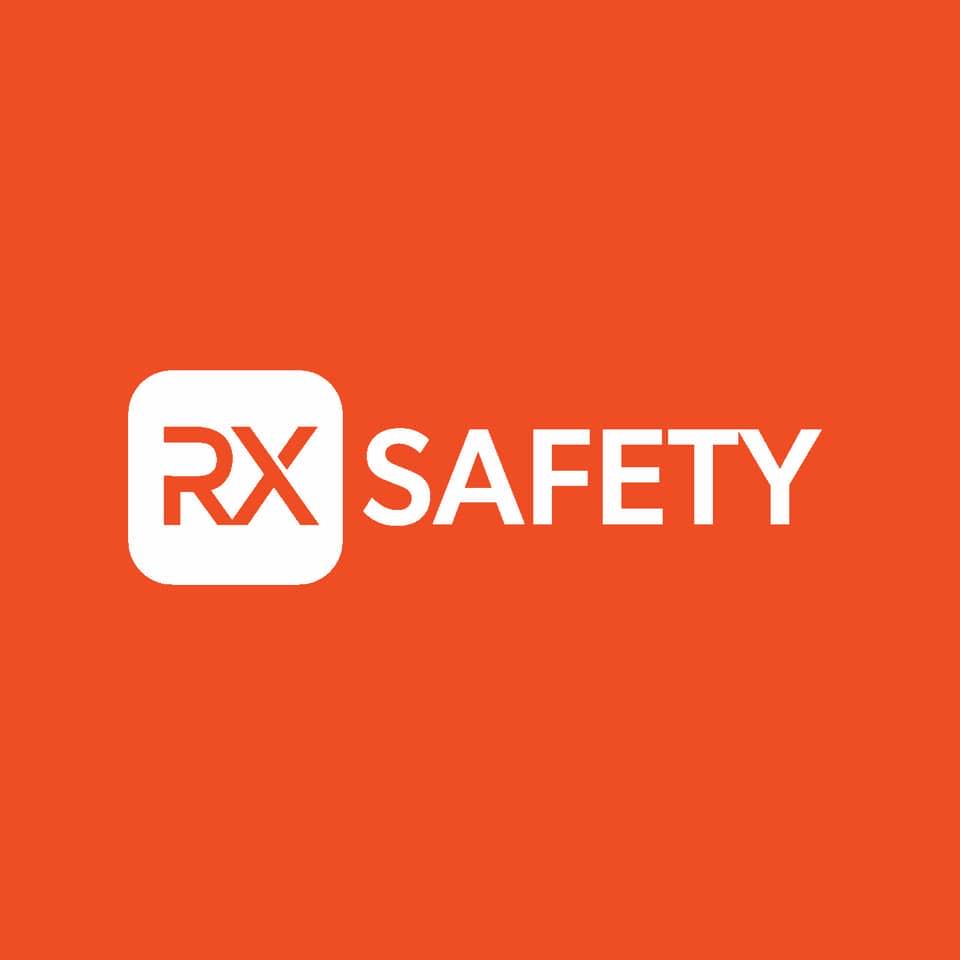 09/18/2023- Middlesex, NJ: A high visibility vest, or hi-vis vest, is a specialized garment designed to enhance the visibility of the wearer, particularly in situations where visibility may be compromised. These vests are typically made from brightly colored fluorescent materials, such as neon yellow or orange, and feature reflective strips or tape. The combination of bright colors and reflective elements makes individuals wearing hi-vis vests highly visible, even from a distance.
The primary reason for wearing high visibility vests is safety. Whether you are working on a construction site, directing traffic, or even just taking a walk or bike ride near a road, wearing a hi-vis vest significantly reduces the risk of accidents. These vests make you stand out in various environments, ensuring that others can see you clearly and giving them ample time to react.
In addition to safety, high visibility vests are often a requirement on job sites and in specific industries to meet safety regulations and standards. They not only protect you but also help maintain a safe working environment for everyone.
You should wear a high visibility vest whenever you are in a situation where visibility is compromised, such as construction sites, to be easily seen by heavy equipment operators and coworkers; roadside work, to ensure you're visible to passing vehicles; when cycling or jogging at dawn, dusk, or in low-light conditions, so you more visible to drivers; and in industrial facilities, to help distinguish workers from machinery and equipment.
Portwest High Visibility Vests at RX Safety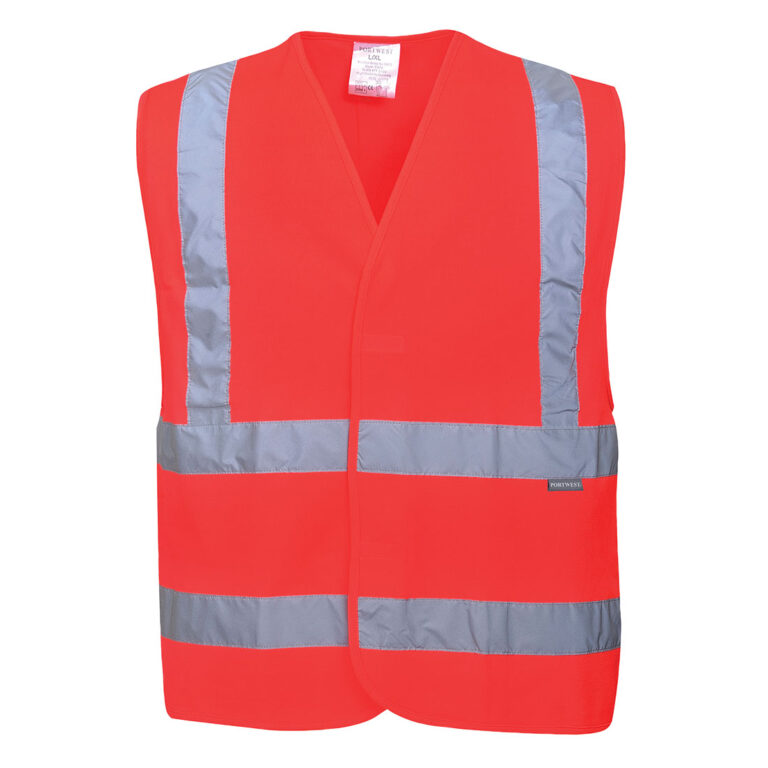 At RX Safety, we take pride in offering a range of top-quality Portwest high visibility vests to cater to diverse industry needs. Let's take a closer look at some of our featured products.
Portwest C470 Hi-Vis Safety Vest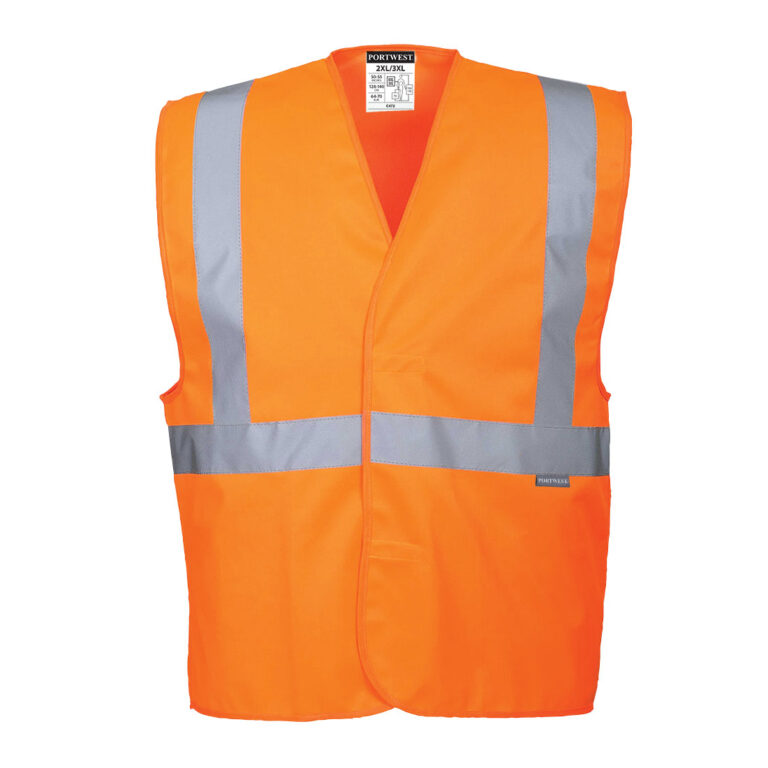 This vest offers exceptional visibility with its fluorescent background and reflective tape. It's a cost-effective option for staying safe on the job, and it's available in three different colors: red, orange, and yellow.
Portwest C472 Hi-Vis Safety Vest
With a zip-front design and multiple pockets, this vest provides both safety and convenience for professionals on the go. It is available in orange or yellow.
Portwest PW309 Hi-Vis Executive Safety Vest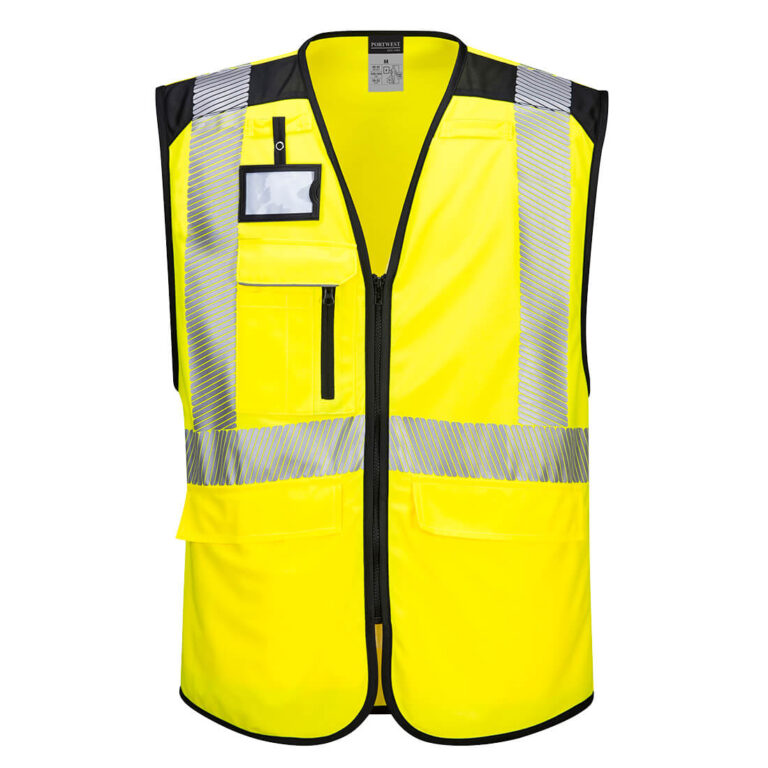 This executive vest combines style and safety, making it suitable for a variety of professional settings. It features a smartphone pocket and ID holder for added practicality. Plus, it is available in two color variations.
All of these high visibility vests, available in different models, colors, and sizes ranging from small to 7XL, adhere to ANSI 107 safety standards. You can trust that when you choose a Portwest vest from RX Safety, you are investing in quality and safety.
In conclusion, high visibility vests are a crucial safety accessory in many industries, and RX Safety offers a comprehensive collection of Portwest high visibility vests that meet ANSI standards. Whether you're in construction, law enforcement, or any profession that requires enhanced visibility, our range of vests has you covered. Stay safe and visible with RX Safety's high-quality hi-vis vests. If you have any questions, talk to our experts through our chat, e-mail us at service@rx-safety.com, or give us a call at +1 888 245 6638.
About Us:
Rx Safety is an American manufacturer of affordable prescription safety glasses and performance eyewear. A family-owned and operated business, with a state-of-the-art digital ophthalmic lab and the online store providing affordable, top-of-the-line prescription safety glasses, sunglasses, and performance eyewear on the market. All the safety glasses always meet or exceed the ANSI Z87+ standards for high impact, to be safe and secure while working in any kind of hazardous environment. Besides standard safety glasses, we offer a broad selection of prescription shooting and tactical glasses, prescription youth sports glasses, fishing, and motorcycle glasses designed and tested to meet our high standards. As an authorized distributor of Wiley X, Bobster, ESS, and BodySpecs, Rx-Safety.com offers a full line of prescription safety glasses straight from the manufacturer at wholesale prices.
Like us: https://www.facebook.com/RxSafety/
Follow us: https://www.instagram.com/rx_safety/
Subscribe us: https://www.youtube.com/user/RXSafetyVideos/
Retweet us: https://twitter.com/RXSafetyEyewear/
Contact Detail:
Company Name: RX Safety Glasses
Contact Person: Ryan Phillips
Email: Send Email
Address: 123 Lincoln Blvd, Middlesex
State: NJ 08846
Country: United States
Website Url: https://rx-safety.com/


Source: www.PRExhibition.com